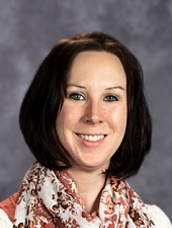 Phone:
Email:
Degrees and Certifications:
Mrs.

Traci Plucker

DURING THE SCHOOL'S CLOSURE, PLEASE REFER TO GOOGLE CLASSROOM FOR YOUR PARTICULAR CLASS. THERE YOU WILL FIND ALL THE INFORMATION FOR THE EDUCATIONAL MATERIAL DISTRIBUTED OR PICK UP AFTER SPRING BREAK. PLEASE EMAIL WITH ANY QUESTIONS OR CONCERNS. I WILL BE AVAILABLE 7:30 TO 3:30 DAILY. PLEASE ALSO BE PATIENT, FOR I WILL BE FIELDING MULTIPLE INQUIRIES FOR A WIDE VARIETY OF COURSES. THANK YOU FOR UNDERSTANDING.

ALSO, IF YOU NEED THE INVITE CODE TO YOUR CLASSROOM, REACH OUT IMMEDIATELY.

I am orginally from Fond du Lac, Wisconsin; I moved to Crivitz in 2005. Along with beginning my career as an English teacher, I met my now-husband that same year. We were married in 2009, and we have been blessed with three wonderful and beautiful children. Before moving to Crivitz, I attended the University of Wisconsin-Madison where I earned my degrees in English and philosophy. I became a certified and licensed English teacher (6-12) through Concordia University after my graduation from the UW. I am a proud wife, mother, and teacher; I take all of these roles very seriously. I am blessed to have made a wonderul and fulfilling life in Crivitz.
Mrs. Plucker
Crivitz High School

400 South Ave.

Crivitz, WI 54114

Phone: 715-854-2721 #346

I currently teach English 11, Introduction to Novels, AP English and Oral Interpersonal Communications. Next semester, I will be teaching: Myth and Lit, Short Literature, Rhythm and Rhyme, Shakespeare Literature, AP English, and Introduction to Novels.

Please always view any subpages to any of the main pages: important information is presented on these pages.