Crivitz Community Education's goal is to provide different opportunities for our schools, local citizens, the local community and the communities that surround Crivitz, along with giving agencies and institutions the opportunity to become active partners in addressing education and community concerns. Some of the ways we can do this are providing opportunities for active recreation, sports, citizen involvement, informal non-credit courses or classes, along with collaboration with other community organizations. We focus highly on using our elementary and middle/high school facilities, buildings, and equipment for the enjoyment of our community.

*Sharing your talents, skills, and knowledge is a great way to expand your own experience, as well as meet others who share your interests. Community Education offers several ways to conduct classes, workshops, seminars and other types of learning experiences. We keep learning at a break-even cost while using our school district facilities. Class instructors must fill out a Community Education Class Proposal Form (see below) along with requesting and scheduling the facility (the link for the facility request is on our main page).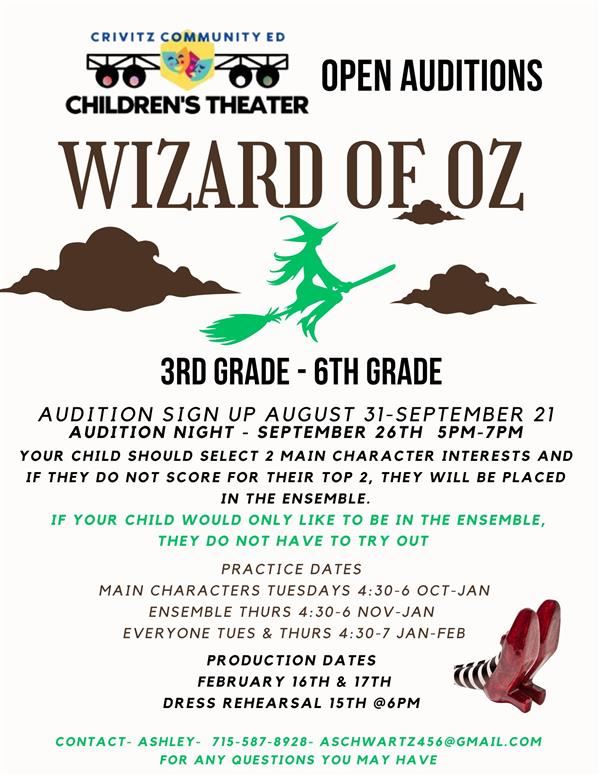 Community Ed offers a Volunteer Community Scholarship to be awarded to 2 graduating students from Crivitz High School with up to $1500 in scholarship money for over 12 hours of community volunteer time. This does NOT include credit for mandatory club/athletic hours. Included is the Log Sheet to record the required information about each volunteer event. More information will be given out to families at the beginning of the new 2023-2024 school year.
Community Ed is gearing up for our next annual craft show!